Tribute to Viborg, 1018 – 2018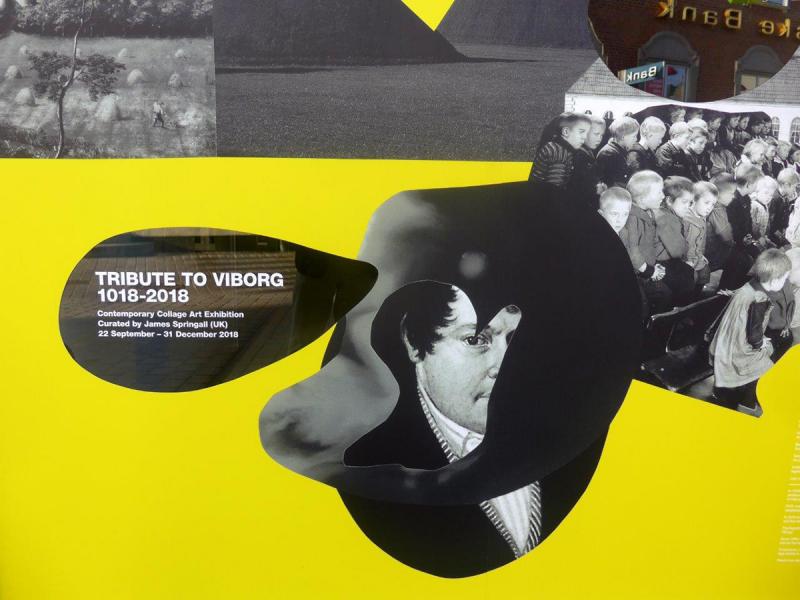 22.09 - 31.21.2018
An exhibition of Contemporary Collage Art Established by Sergei Sviatchenko and curated by James Springall September 22nd – December 31st, 2018
Location: Viborg, Denmark


Exhibiting Artists

Jono Boyle (Ireland), Dorte Buchwald (Denmark), Paul Burgess (UK), Juliet Casella (France), Nikolaus Dolman (Australia), James Gallagher (USA), BD Graft (Germany), Eva Eun-sil Han (South Korea), Sebastian Haslauer (Germany), Nils Karsten (Germany), Konvoj (Denmark), Eric Magassa (Sweden), DR ME (UK), Noriko Okaku (Japan), James Springall (UK), Sergei Sviatchenko (Denmark), Oleg Tistol (Ukraine), Nil Ultra (USA)
The artists Sergei Sviatchenko and James Springall have teamed up to put on a cutting-edge group exhibition of contemporary collage art. Tribute to Viborg, 1018 – 2018 will celebrate the 1000-year history of one of the oldest cities in Denmark. A selection of internationally acclaimed contemporary artists, which use collage as part of their practice, have been invited to create an original piece of work loosely based on the city.


The work created in Tribute to Viborg, 1018 – 2018 will go on to form the basis of The Museum of Contemporary Collage Art that Sviatchenko and Springall have established in Viborg. It will house a carefully curated and ever-growing permanent collection of collage-based artwork, celebrating some of the most vital artists working in contemporary collage today. The art world is experiencing a collage renaissance at present that is transforming the medium into a radical new art movement in its own right, and The Museum of Contemporary Collage Art aims to capture the spirit of the resurgence that has taken place in collage over the last 15 years.


Sviatchenko is an internationally renowned artist that helped to challenge the world to see collage differently. Widely recognised as one of the pioneers of contemporary collage, he has chosen to operate his entire career from Viborg, where he opened Senko Studio, an acclaimed experimental gallery that has worked with artists such as Yoko Ono.

He has had solo exhibitions around the world and several books of his work have been published. Everything Goes Right & Left If You Want It (Gestalten), is a comprehensive collection of both his collage and painting. Sergei Sviatchenko: Collages (SCHLEBRÜGGE.EDITOR) is the first monograph to focus exclusively on his prolific collage output. Edited by Rick Poynor, a prominent British writer, lecturer and curator, specializing in visual culture, it gathers Sviatchenko's most significant work from the past 10 years and shows little seen collages from his early years in Ukraine before he moved to live and work in Denmark in 1990.


Springall recently curated The International Weird Collage Show for Jealous Gallery in London, a hugely successful exhibition that received international press from publications such as TimeOut, Wall Street International & Art Rabbit. His own work has been shown in group exhibitions at the Saatchi Gallery and The Royal Academy of Arts.